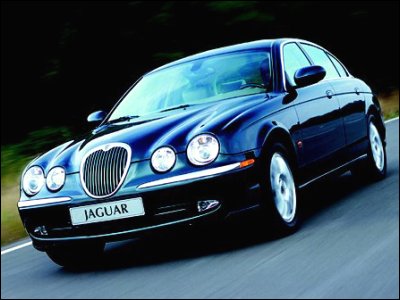 The S-Type was produced at Jaguar's Castle Bromwich facility in Birmingham, England. The car was styled by the late Geoff Lawson, and is based on the Jaguar DEW platform/Ford DEW platform which it shared with the now out of production Lincoln LS, but with substantial modifications.

The supercharged S-Type R joined the lineup in 2003 and the hope was that it would compete with the likes of BMW's M5 and the Mercedes E55 AMG. The "R" was powered by a supercharged V8 producing 390 hp (290 kW/400 PS) , and could accelerate from 0 to 60 mph (97 km/h) in 5.3 s (0 to 100 km/h (62 mph) in 5.6 s). It included 18 in (457 mm) alloy wheels, wire-mesh grille and dramatic monochromatic paint. The "R" also has a sportier rear apron, side-skirts, and front apron with built-in fog-lamps, a rear spoiler, a brace located near the rear subframe, and "R" badging on the boot lid and both front wings. It was the most expensive S-Type, with a base price of £50,040 in the UK [1] (US$58,995 in the United States).

A minor facelift in 2004 refined the S-Type's overall appearance, with the addition of redesigned standard front and rear aprons, slightly modified grille to include the Jaguar badge, remodeled rear light clusters, an aluminium bonnet, and a new 2.7 L V6 diesel engine. The windscreen washer jets were incorporated into the windscreen wiper arms. Internally, the center console was redesigned to incorporate the revised switch-gear and radio (or optional satellite navigation equipment). Also added was an electronic parking-brake paddle-switch which replaced the conventional manually-operated lever for the rear brakes.

From 2003, the rear wheel drive S-Type was produced with either a 5-speed manual transmission or a 6-speed J-Gate transmission that allows automatic gear selection or clutchless manual gear selection. The 2004 diesel sport saw the introduction of a 6-speed manual transmission. From model years 2000 to 2002, the S-Type was equipped with either a 5-speed manual or 5-speed J-Gate Ford 5R55N transmission.